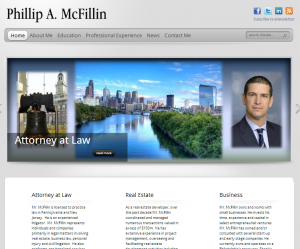 Pyxis Media Group recently completed a Pyxis Driven™ Website & Communication Platform for Phillip A. McFillin, Attorney at Law. A lifelong resident of Philadelphia, Mr. McFillin concentrates his career in the areas of law, real estate and business.  His core values include honesty, integrity, hard work and determination, which he applies in all of his business and personal relationships. He now has a place to easily share news, events, updates, and photos. Their platform allows them to create a news post once, and it's automatically shared not only on their website, but also with all of the major social media outlets, their eNewsletter, and RSS Feed.
Ready to get started?
Check out our Pyxis Solution Package options.
 Pyxis Driven Solution Packages provide you with 
exact pricing and exact specifications
 of everything that you will receive when you engage with Pyxis Media Group.
About Phillip A. McFillin
Mr. McFillin is licensed to practice law in Pennsylvania and New Jersey.  He is an experienced litigator.  Mr. McFillin represents individuals and companies primarily in legal matters involving real estate, business law, personal injury and civil litigation.  He also performs pro bono legal services for clients with compelling issues for the public good.  Mr. McFillin serves as Of Counsel to the firm of Mattioni, Ltd.
Learn More About Phillip A. McFillin.