Client Spotlight | Big D Roofing
Pyxis Media Group recently completed a Pyxis Driven™ Website & Communication Platform for Big D Roofing.
With their new website, Big D Roofing now has a place to easily share news, events, updates, and photos. Their platform allows them to create a news post once, and it's automatically shared not only on their website, but also with all of the major social media outlets, their eNewsletter, and RSS Feed.
Ready to get started?
Check out our Pyxis Solution Package options.
 Pyxis Driven Solution Packages provide you with 
exact pricing and exact specifications
 of everything that you will receive when you engage with Pyxis Media Group.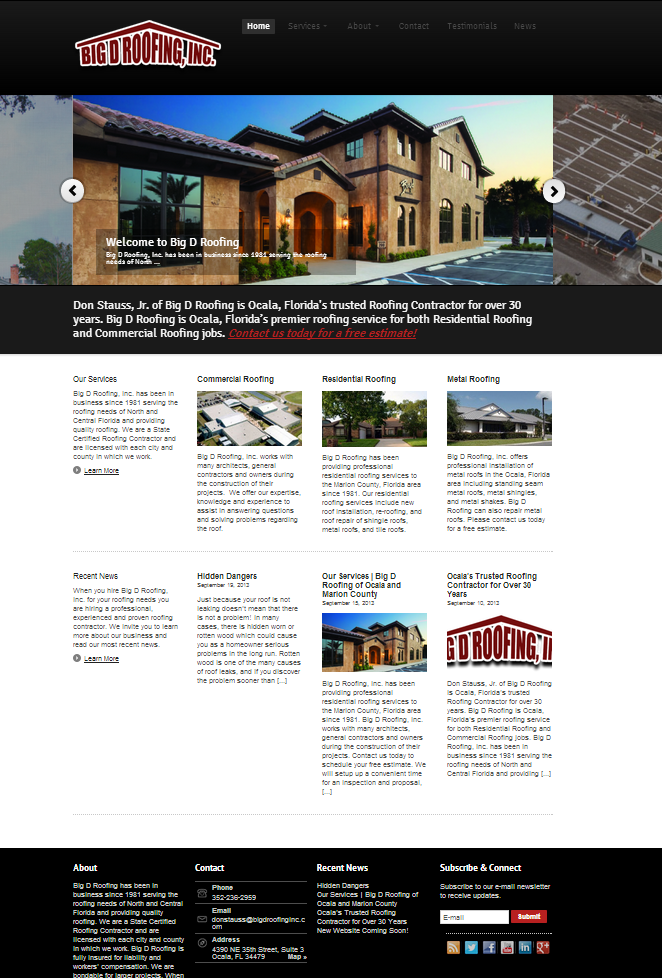 Don Stauss, Jr. of Big D Roofing is Ocala, Florida's trusted Roofing Contractor for over 30 years. Big D Roofing is Ocala, Florida's premier roofing service for both Residential Roofing and Commercial Roofing jobs.
Big D Roofing has been in business since 1981 serving the roofing needs of North and Central Florida and providing quality roofing. They are a State Certified Roofing Contractor and are licensed with each city and county in which they work. Big D Roofing is fully insured for liability and workers' compensation. Then are bondable for larger projects. When you hire Big D Roofing for your roofing needs, you are hiring a professional roofing contractor capable of providing your roofing needs in an effective and efficient manner.
Big D Roofing
Learn More About Big D Roofing