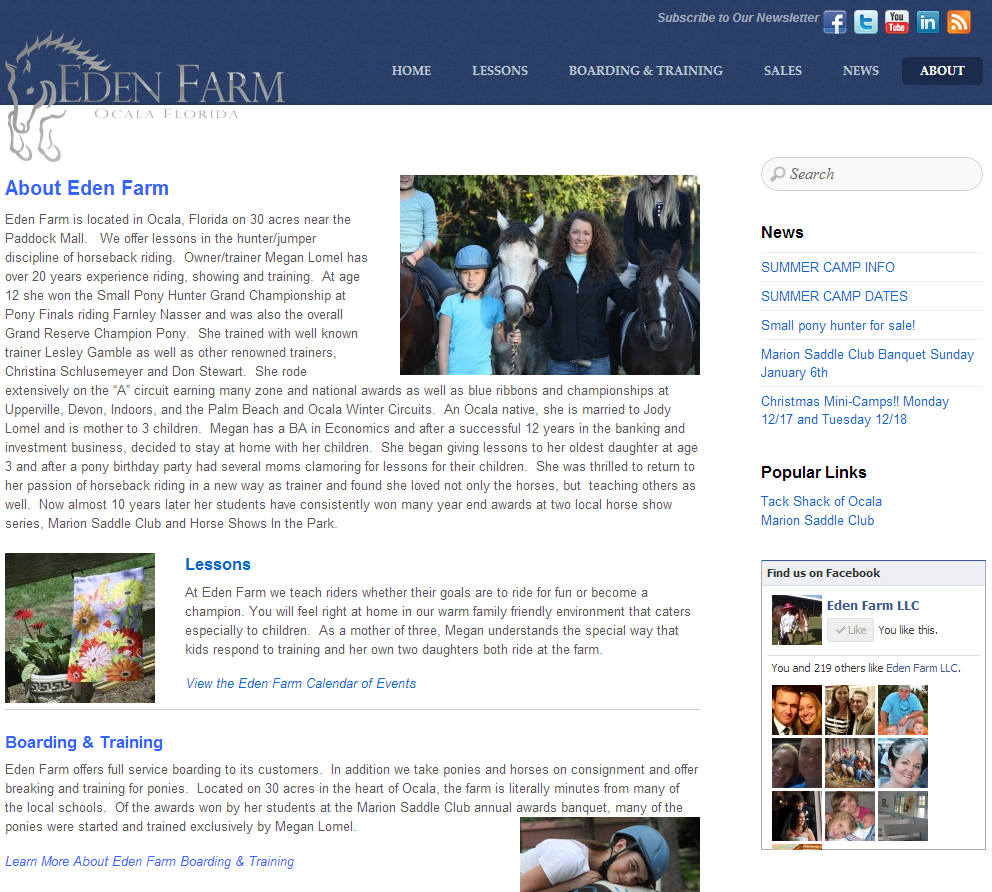 Pyxis Media Group recently completed a Pyxis Driven™ Website & Communication Platform for Eden Farm. Eden Farm is located in Ocala, Florida on 30 acres near the Paddock Mall. They offer lessons in the hunter/jumper discipline of horseback riding.  Owner/trainer Megan Lomel has over 20 years experience riding, showing and training.  At age 12 she won the Small Pony Hunter Grand Championship at Pony Finals riding Farnley Nasser and was also the overall Grand Reserve Champion Pony.  She trained with well known trainer Lesley Gamble as well as other renowned trainers, Christina Schlusemeyer and Don Stewart.  She rode extensively on the "A" circuit earning many zone and national awards as well as blue ribbons and championships at Upperville, Devon, Indoors, and the Palm Beach and Ocala Winter Circuits.  An Ocala native, she is married to Jody Lomel and is mother to 3 children.  Megan has a BA in Economics and after a successful 12 years in the banking and investment business, decided to stay at home with her children.  She began giving lessons to her oldest daughter at age 3 and after a pony birthday party had several moms clamoring for lessons for their children.  She was thrilled to return to her passion of horseback riding in a new way as trainer and found she loved not only the horses, but  teaching others as well.  Now almost 10 years later her students have consistently won many year end awards at two local horse show series, Marion Saddle Club and Horse Shows In the Park.
Eden Farm now has a place to easily share news, events, updates, and photos. Their platform allows them to create a news post once, and it's automatically shared not only on their website, but also with all of the major social media outlets, their eNewsletter, and RSS Feed.
Ready to get started?
Check out our Pyxis Solution Package options.
 Pyxis Driven Solution Packages provide you with 
exact pricing and exact specifications
 of everything that you will receive when you engage with Pyxis Media Group.
About Eden Farm
Eden Farm is located in Ocala, FL specializing in hunter ponies offering lessons for children as well as boarding and training for show ponies. They are very family oriented and focus on safety and fun. Contact trainer, Megan Lomel at 352-572-7658 for more information.
Learn More About Eden Farm