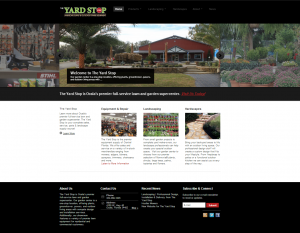 We're excited to announce the latest delivery of a Pyxis Driven™ Website & Communication Platform for The Yard Stop.
The Yard Stop is Ocala's premier full-service lawn and garden supercenter. Their garden center is a one-stop location, offering plants, groundcover, pavers, and outdoor living areas with compete design and installation services. Additionally, our showroom features a variety of premier lawn equipment for residential and commercial customers.
The Yard Stop now has a place to easily share news, events, updates, and photos. Their platform allows them to create a news post once, and it's automatically shared not only on their website, but also with all of the major social media outlets, their eNewsletter, and RSS Feed.
Ready to get started?
Check out our Pyxis Solution Package options.
 Pyxis Driven Solution Packages provide you with 
exact pricing and exact specifications
 of everything that you will receive when you engage with Pyxis Media Group.
Learn More About The Yard Stop
The Yard Stop's showroom and garden center is located at 4160 W. Hwy 40 in Ocala, Florida.
Learn More About The Yard Stop